Jim Fiolek, Exec. Director of the Santa Barbara County Vintner's Association, Tells Us About the Latest Wines & Events in Santa Barbara Wine Country!
The Santa Barbara County Vintners' Association is a non-profit organization founded in 1983 to support and promote Santa Barbara County as a premium wine producing and wine grape growing region. The Vintners' Association produces festivals, seminars and tastings and provides information to consumers and the wine and travel media.
Ken Brown Tells Us About Ken Brown Wines!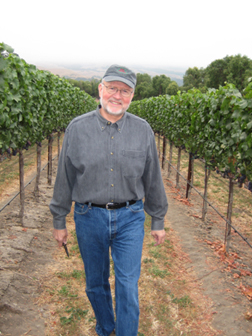 The Focus at Ken Brown Wines is on very small lots of Pinot Noir from the finest vineyards of Sta. Rita Hills. The wines are produced at our winery in Buellton at the gateway to the Sta. Rita Hills appellation, and most lots consist of 250 cases or less. Total annual production is only about 2,000 cases.
Ken works with growers, many of whom he's known for years, to hand select vineyard blocks for the program. Some of the remarkable vineyards they work with include Cargasacchi, Clos Pepe, Rio Vista and Sanford & Benedict. They also produce limited bottlings of Chardonnay and Syrah.
Ken's wife, Deborah, and Ken make up the staff of Ken Brown Wines, and they enjoy the close relationships they have with our wines and their customers.

Most of Ken's career has been spent pursuing the elusive traits that make great Pinot Noir. From his early days at Zaca Mesa Winery to his 20-year tenure at Byron Vineyard to his small family operation at Ken Brown Wines, he has continued to experiment with clones, rootstocks, soils and winemaking techniques, exploring the tremendous potential for Pinot Noir in Santa Barbara County.

Ken's first experience with Pinot Noir in what is now known as the Sta. Rita Hills came in 1976 when he met Richard Sanford and Michael Benedict and tasted one of the first Pinot Noirs from the Sanford and Benedict Vineyard. Launching the Ken Brown label in 2003 reinvigorated his excitement about the vineyards and the wines that brought him to Santa Barbara County in the first place 30 years ago. Experience tells him that great achievements still lie ahead, and it is in that spirit that he continues the quest for the next echelon of quality in Pinot.