STU SMITH - GENERAL PARTNER & ENOLOGIST, SMITH-MADRONE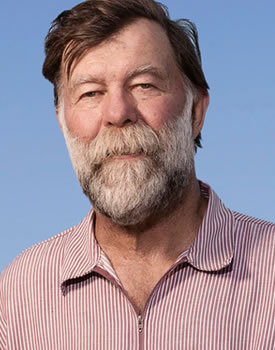 Brothers Stuart and Charles Smith are the vineyard managers and winemakers of Smith-Madrone Winery. Also in the family attic is the Fetherolf family, German farmers from the Palatinate region, who came to America on the Good Ship Thistle in 1730. The name for the winery came as a tribute to the Smith brothers who pursued their dream and to the Madrone trees which distinguish the property.
In May 1971, with a partnership of family and friends, Stuart Smith bought the 'terroir' which today is Smith-Madrone Vineyards & winery. He was 22 years old and had just received his B.A. in Economics from UC Berkeley and was taking classes towards his Master's in Viticulture at UC Davis. In trying to find land to plant vineyard in the Napa Valley, through a family friend he explored a forest on the remotest and highest part of Spring Mountain and discovered that the land had been a vineyard in the 1880s and in fact had been part of the wagon trail route between Napa and Santa Rosa. Today he is respected for his expertise and leadership as a mountain vineyardist.
Stuart was born and raised in Santa Monica. While pursuing his master's at UC Davis, Stuart was the first teaching assistant for wine industry pioneers Maynard Amerine and Vernon Singleton in 1970-1971. He taught enology at Santa Rosa Junior College and Napa Valley College; he has chaired the 1986 and 2006 Napa Valley Wine Auctions. He is an active member of the G.O.N.A.D.S. (the Gastronomical Order for Nonsensical and Dissipatory Society), a group of Napa Valley vintners who started getting together for monthly lunches in the 1980s. He served on Napa County's Watershed Task Force for several years, appointed by the Board of Supervisors; in 2006 he was appointed again by the Board of Supervisors to sit on Napa County General Plan Steering Committee, responsible for updating Napa's General Plan, a three year project. Stu also serves as auctioneer for an Omaha (NB) charity auction every year.
Stuart served as Scout Master for St. Helena's (Boy Scout) Troop One for many years. He is an avid canoeist, having canoed through the Quetico Wilderness in Canada many times and often canoes the Klamath and Trinity Rivers in California. He has five children and one grand-child; the family includes a photographer, beekeeper/artist, management information specialist, up-and-coming winemaker, distributor salesman and high school sophomore.
WWW.SMITHMADRONE.COM
GARY PISONI – PISONI VINEYARDS
A special place, Pisoni Vineyards expresses the land and climate of the Santa Lucia Highlands and the spirit of the Pisoni Family. The site is a source of exceptional Pinot Noir, Chardonnay and Syrah.
First planted by Gary Pisoni in 1982, Pisoni Vineyards consists of small vineyard blocks arranged on and around the ridges of the mountainous landscape. Ranging in size from one-half to seventeen acres, the vineyard blocks perch at an altitude of 1,300 feet in the granite-laced mountains of the coastal Santa Lucia Range.
Inspired by the Burgundy tradition of having several wineries source fruit from the same vineyard, Gary Pisoni has formed relationships with some of the most prestigious Pinot Noir producers in California. With agreements based on handshake alone, these wineries are guaranteed specific rows and blocks each year. They purchase grapes at a per-acre price rather than a per-ton price, which maintains the focus on quality and not yields.
In addition to supplying fruit to artisan producers of vineyard-designated wines, the Pisoni Family retains a portion of the vineyard for the production of Pisoni Estate wine.
THE PRACTICE
Vineyard management is meticulous. Under Mark Pisoni's leadership, a long-time permanent crew of 18 skilled individuals perform all the work by hand. Every decision implements sustainable farming practices and long-term considerations. This commitment, combined with the rocky soils and cold Monterey Bay weather, produce serious and compelling wines.
THE FAMILY
In 1952 Jane and Eddie Pisoni began farming vegetables in the fertile Salinas Valley. A celery-crop profit in 1979 provided the down payment for the Santa Lucia Highlands property that became Pisoni Vineyards. Their love for the land provided the place where their son Gary could realize his dreams. Gary developed a love of wine while attending college. He started collecting fine French and German wines, and he made his first wine in his garage in 1978 at the age of twenty-five. In 1982, Gary broke ground and planted the first vines at Pisoni Vineyards. He was up against many obstacles, including not having a water source at the time.
Mark Pisoni, the vineyard manager, completed a B.S. in Agricultural Economics at the University of California, Davis, and an M.S. in Farm Business Management at Cornell University. He oversees the meticulous care of both Pisoni Vineyards and Pisoni Farms. Jeff Pisoni is the winemaker. He earned a B.S. in Enology at California State University, Fresno, and got hands-on experience at premium wineries before becoming the Pisoni Estate and Lucia winemaker in 2002.
THE WINE
The Pisoni Family produces one wine each year under the label bearing its name: Pisoni Estate Pinot Noir. Although actual quantities vary with fruit yields, typical production is a mere 500 cases annually. Often noted for their deep color and intensity, wines from Pisoni Vineyards offer complex flavors and layers of undulating texture. The rocky mountain soil and the long, cool growing season provide the fundamental character of the wine, and the tannin and acid structure contribute to the age-worthiness.
LUCIA
Lucia vineyard designated Santa Lucia Highlands AVA wines. Lucia is the sister label of the Pisoni Estate wines. Whereas Pisoni Estate is committed to a single expression of the Pisoni Vineyards, Lucia represents the collection of vineyards that the Pisoni Family farms: Pisoni Vineyards, Soberanes Vineyard and Garys' Vineyard (the latter two farmed in partnership with Gary Franscioni).
The wines of Lucia are vineyard designated Pinot Noir, Chardonnay and Syrah from these vineyards and eponymous Santa Lucia Highlands AVA cuvées with varying percentages of each vineyard blended together. Lucia wines are made alongside the Pisoni Estate wines using the same exacting standards for quality. They are sold via mailing list and high-end restaurants and retailers. If you are on the mailing list for Pisoni Estate wines, you will automatically have the opportunity to purchase the Lucia offerings.
WWW.PISONIVINEYARDS.COM