ERIC JOHANNSEN – WINEMAKER, CHAMP DE REVES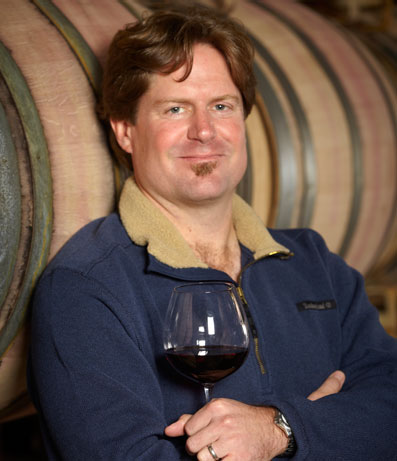 ANDERSON VALLEY
Terroir and Culture
As a winegrowing region, there is no other Pinot Noir AVA in America that has more potential. The features of the valley are a Mecca for the cultivation of Pinot: here one finds daily, cooling maritime influence, dramatic geological contours with high mountains on either side of the valley, rocky soils and a mix of classic California flora and trees.
The ensuing range of Pinot Noir flavor profiles and firm structural elements leave no doubt that the Anderson Valley is qualitatively superb.
Culturally, Anderson Valley is entirely unique. Isolated, eccentric, rugged and populated by artists, winegrowers, orchardists and long-time residents, it has its own flavor and a colorful, much-beloved history.
CHAMP DE RÊVES
Inspired focus on a single wine
We make only one wine—Pinot Noir. Characterized by aromas and flavors of blue/black fruit, floral and spice elements, earth and a distinct minerality, Champ de Rêves' calling card is its mouthfeel, which exhibits both a silky textural trait and a firm, gravelly structure that's a testament to its high altitude origins.
Champ de Rêves winemaker Eric Johannsen has over a decade of experience in Pinot Noir winemaking throughout the vineyards of California.
"Anderson Valley is like nowhere else. The region manages to express the quintessential nuance and complexity of Pinot Noir, while at the same time conferring optimal ripeness. Add an epic vineyard with dozens of tiny, unique blocks, and there's plenty of cause for excitement."— Eric Johannsen
CHAMPDEREVESVINEYARDS.COM
STEVEN PEPE – CLOS PEPE VINEYARDS - DEFINING THE EDGE: A SURVEY OF THE EASTERN BOUNDARY LINE OF THE STA. RITA HILLS AVA.
Clos Pepe Vineyard was purchased by Steve and Cathy Pepe in 1994 as a horse ranch, and established the 9th vineyard in what would become the Sta. Rita Hills AVA. Specializing in cool-climate, small production, craft-based Pinot Noir and Chardonnay, Clos Pepe is now recognized as a leader in local and national wine culture, wine education and providing fruit to some of the best winemakers in California.
The Italians say, 'Il vino e' la Poesia della Terra.' Wine is the poetry of the earth. There is nothing that can obfuscate Pinot Noir's ability to speak of a time and place. Of every plant on earth, Pinot Noir is unique in its ability to show every angle of a vintage, every silt particle in the soil, and every drop of morning dew that wet its leaves. Tea, coffee, white truffles—these can tell a story and confound us with their deliciousness, but the uncontested Queen of Natural Complexity must be Pinot Noir. We anticipate each vintage with a proper mix of anxiety and hope, knowing Mother Nature and the Sta. Rita Hills have a plan that will allow time and effort to fill a glass.
VINEYARD PHILOSOPHY
There are no secrets at Clos Pepe. We don't hide our cultural practices, yields, harvest chemistry or our winemaking methods. We believe that the combination of climate, people and dirt combine to make a quality of fruit and wine that is perfectly unique and impossible to reproduce.
Great wine is about place, but without the hard work and planning of our crew and staff, Clos Pepe would be a hillside covered with weeds, grasses and a few flowers. So there is some 'magic' to the way we farm, but it is more like taking the tarnish off of a silver chalice than building the chalice itself. The key to enable this piece of land to express itself naturally through the wines we grow--to let the Vintage's voice emerge in harmony with vineyard and varietal.
CLOSPEPE.COM