RENEE ARY – WINEMAKER, DUCKHORN VINEYARDS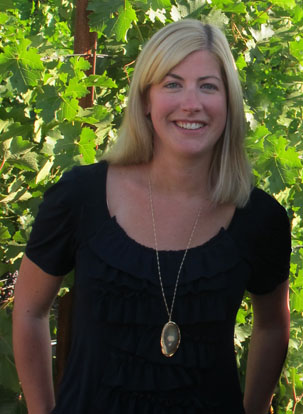 Renee Ary became the fourth winemaker in the four-decade history of Duckhorn Vineyards in 2014. Her promotion came after 11 years as an integral member Cof the winemaking team—including roles as assistant and associate winemaker. Like the two acclaimed winemakers before her, Renee spent years working alongside her predecessors, honing her craft, refining her gifted palate and mastering the Duckhorn Vineyards style. Today, with an approach that balances artistry, science and a deep respect for the viticultural side of winemaking, Renee guides the entire Duckhorn Vineyards portfolio, crafting wines that offer structure and sophistication, as well as a deep and purposeful sense of place.
Born and raised on the East Coast, Renee moved to California to attend Saint Mary's College, where she earned a degree in chemistry and art. Fascinated by the intersection between science and an art, winemaking quickly became Renee's passion, career and way of life. She started in the laboratory of Robert Mondavi Winery in Oakville, where she spent four years working closely with winemaking luminaries Genevieve Janssens, Steve Leveque and Richard Sowalsky. While Renee gained this invaluable hands-on experience, she augmented her scholarly understanding of winemaking and viticulture with classes at UC Davis and Napa Valley College.
In August of 2003, Renee joined the Duckhorn Vineyards team under then winemaker, Mark Beringer. From Mark, Renee gained a much deeper knowledge of farming, viticulture and the intricacies of Duckhorn's diverse and storied Estate program. She also refined her blending skills, embracing the intuitive artistry of the blend, and the counterpoint it offered to the more scientific aspects of winemaking. Throughout her first decade at Duckhorn Vineyards, Renee learned every detail of production moving from lab manager to enologist to assistant winemaker to associate winemaker in charge of Duckhorn's Sauvignon Blanc and Monitor Ledge Vineyard wines.
In early 2014, Renee became the fourth name on the short list of Duckhorn Vineyards winemakers that began with Tom Rinaldi in 1978. As winemaker, Renee works in small lots to preserve the rich complexity of the fruit in the Duckhorn winegrowing program. "From our own Estate vineyards to legendary sites like Three Palms, I am incredibly fortunate to work with some of Napa Valley's most exceptional grapes," says Renee. "When you work with fruit of this quality, there is no recipe or formula. My job is to let the vineyards speak and convey the soul of the wine."
"It's important to approach a role like this with humility," adds Renee, "and with the knowledge that I am a part of an ongoing story—that I am contributing to the legacy of a great winery, and building on the work of the talented people who laid the foundation for excellence."
WWW.DUCKHORN.COM
COBY PARKER-GARCIA - WINEMAKER, CLAIBORNE AND CHURCHILL - WINE LIBRARY WEEKEND
Claiborne & Churchill is a small, family-owned winery founded in 1983 by Claiborne (Clay) Thompson and Fredericka Churchill. Former teachers at the University of Michigan (Clay specialized in Old Norse Languages and Literatures and Fredericka taught German), the couple left the "Groves of Academe" for the vineyards of California in 1981 in order to start a new life in the wine industry. Clay began as a "cellar rat" in a local winery, learning the business from the ground up (actually underground), and soon the two were encouraged to start their own wine production in that host facility.
With its first crush in 1983 Claiborne & Churchill announced its special focus, producing 565 cases of Dry Gewürztraminer and Dry Riesling, modeled on the fruity but dry dinner wines of the French province of Alsace. Claiborne & Churchill now produces about 10,000 cases of wine a year, purchasing grapes from vineyards in the cool maritime valleys of California's Central Coast. About two-thirds of these wines remain our signature wines, the Dry Riesling and Dry Gewürztraminer, which are sold all over the country (and abroad) by a network of brokers and distributors. A variety of other wines, including Chardonnay, Pinot Noir, Syrah, Cabernet Sauvignon, as well as other wines in the Alsatian style (Pinot Gris, Dry Muscat, and an Edelzwicker), are produced in small lots and can be ordered directly from the winery.
In 1995 Clay and Fredericka completed construction on their new and permanent winery building. This structure, a noteworthy example of environmental architecture, is a "straw bale building," the first of its kind in California. With sixteen-inch thick walls made of bales of rice straw, the winery is so well insulated that it maintains a constant cellar temperature, without the need for mechanical cooling or heating.
At Claiborne & Churchill traditional European winemaking techniques prevail, including extensive use of barrel-fermentation and barrel-aging (even with Riesling and Gewürztraminer), minimal manipulation of juice and wine, "natural" or spontaneous fermentation using indigenous yeast, and limited use of SO2, all in the belief that the winemaker's task is to bring out the flavor and character that is latent in the grape. Our aim is to create pleasurable dinner wines in which there is a harmonious balance of fruit and oak, structure and texture.
BIO
A native Californian, Coby Parker-Garcia was born and raised in San Luis Obispo. Growing up working in the family garden he realized his love for agriculture. After extensive trips to Europe and South America he knew the wine industry was his true calling. During his college days at Cal Poly State University, San Luis Obispo he studied Agribusiness Marketing with a minor in Wine and Viticulture. While at Cal Poly, he worked on the campus vineyard learning the ins and outs of growing grapes. Not only did he spend time in the vineyard but also took an internship with a local winery. There his love for winemaking grew and pushed his passion for wine even further.
In 2004 the opportunity to work for Claiborne & Churchill came up. He took the responsibility as assistant winemaker. Under the guidence of Clay Thompson, he learned traditional European winemaking techniques that emphasized minimal manipulation of both fruit and wine. Wanting to continue his education further he took classes at the University of California Davis. This gave him insight to new an improved winemaking techniques. By 2007 Coby was promoted head winemaker for Claiborne & Churchill. Today he oversees the entire wine production, their estate vineyards, and works closely with numerous vineyard managers along the Central Coast.
Besides working for Claiborne & Churchill, Coby helpes his wife's family vineyard in the Russian River, AVA.
Winemaking Style
"I like to say I take a hands on approach to winemaking. Get in and get dirty. As a winemaker, my job is to highlight the best qualities of each vintage. Each vintage is different and brings something positive or unique to the table. My job is to showcase the vineyard and vintage in each glass of wine.My wines are not the biggest, boldist, and most most tanic. They show extreem finesse. "My style is to make balanced wine that accompanies food that show solid structure, elegance, and age ability".
Hobbies
If Coby is not knee deep in winemaking. He enjoys time at the beach surfing, in the mountains snowboarding and mountain biking, cooking, and sharing wine with family and friends. Since 2010 Coby has been a board member for the World of Pinot Noir where he shares his passion for Pinot Noir with others.
WINE LIBRARY WEEKEND
Friday, February 20 | 6PM
Winemaker Dinner
$75 Club | $95 General
Kick off this exciting weekend on Friday with a gourmet winemaker dinner highlighting notable vintages of wines from our cellar. This will be a fun and educational dinner guided by our winemaker Coby Parker-Garcia and owner Clay Thompson. Enjoy five unique courses perfectly paired with Claiborne & Churchill Library Wines.
Saturday, February 21 | 1-4PM
Wine Library
Grand Tasting
$15 Club | $25 General
Experience a tasting showcasing the best vintages of our library wines. You'll have the opportunity to taste and purchase from among two dozen white and red wines which have been carefully cellared for several years.
Sunday, February 22 | 11-4PM
Library Wine
& Cheese Pairing
$15 Club | $20 General
"Wine down" on Sunday in our garden patio with a flight of library wines and a gourmet cheese plate by Fromagerie Sophie. Each cheese has been specially selected to pair with these stellar wines.
CLAIBORNECHURCHILL.COM