EMILY KAUFMANN - EXECUTIVE DIRECTOR, CALIFORNIA WINE FESTIVAL - 4TH ANNUAL WINTER WINE CLASSIC BY CALIFORNIA WINE FESTIVAL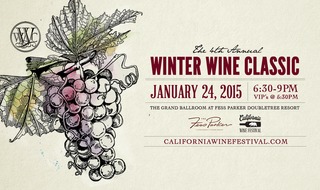 4th Annual Winter Wine Classic by California Wine Festival
SATURDAY, JANUARY 24, 2015
Santa Barbara, one of America's most beautiful cities and the capital of Southern California's wine country, will become the epicenter of the California wine world on Saturday, January 24, 2015. That's when one of the largest gatherings ever of the California's ultra-elite winemaking masters will assemble for the 4th annual "Winter Wine Classic" presented at the luxurious Fess Parker's DoubleTree Resort.
Tasting nearly 100 classic California wines of this legendary stature at one event is truly a rare chance for fine wine lovers to taste the very best all in one place. The event will include famous names from the wine world like Bernardus, Charles Krug, Heitz Wine Cellars, Chateau St. Jean, and Peju as well as artisan gold-medal producers such as Ahnfeldt, Beckmen, Grassini, and Tablas Creek who will pour their ultra-premium wines and delight of the hundreds of oenophiles in attendance.
A wide variety of delectable wine-worthy gourmet morsels will be paired and offered by some of the region's most notable chefs in this luxuriant wine and food celebration. Top Santa Barbara restaurants include Blush, The Lark, Cielito, Olio e Limone, Finch & Fork, Enterprise Fish Company and much more!
WWW.CALIFORNIAWINEFESTIVAL.COM
TERRY HALL – FOUNDER AT TH-INK - NAPA VALLEY UPDATE
Terry joins the show with some insider info on what's going on in Napa Valley in 2015. Formerly the Communications Director for Napa Valley Vintners (7 years) and Trefethen Vineyards (8 years) he now runs his own communications, branding and event planning company.
TH | ink is a communication and brand marketing company focusing on wine and hospitality, founded by Terry Hall in late 2012. The resources of sixteen years of experience in senior-level PR, marketing and brand development in the wine industry coupled with nearly two decades in senior-level resort hotel and food and beverage management offer a breadth of experience and insight that is unmatched.