BEN MAYO – WINEMAKER, EBERLE WINERY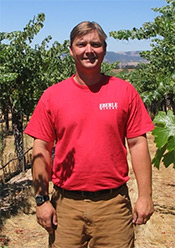 Gary Eberle grew up in a small town in Pennsylvania and went to Penn State on a football scholarship. After graduating with a Bachelor's of Science in biology, he attended Louisiana State University (LSU) where he continued his graduate work studying cellular genetics. While attending LSU, Gary developed an appreciation for wine and changed his academic path to become a winemaker. He traveled west to California to study enology at U.C. Davis where he received a degree in Enology in 1971 and then headed south to Paso Robles in 1973.
Gary launched his career as a winemaker and as the "Pioneer" of Paso Robles Wine Region by establishing Estrella River Winery & Vineyards. In the late 70's, he decided to pursue his own project and acquired nearly 64 acres just down the road from Estrella River Winery. Shortly thereafter, Gary released his first Eberle wine, the 1979 Cabernet Sauvignon debuting the iconic boar logo, depicting the German origin of the name Eberle, meaning "small boar."
THE WINERY
By 1984 the Eberle Winery production facility and tasting room were open for business and in 1994 Gary expanded underground, building the first wine caves in Paso Robles. Now, over 30 years later, Gary Eberle still greet guests daily with complimentary wine tastings, public tours of the production facility and 16,000 square feet of underground caves. They also play host to a variety of delicious and entertaining events held at the winery throughout the year.
WINEMAKER, BEN MAYO
Winemaker, Ben Mayo is a native of San Luis Obispo. He pursued his passion for art and science, earning a degree from UC Santa Cruz. From there, Ben worked in the art world of San Francisco, where he was introduced to food and wine.
Influenced to combine his newfound enjoyment of food and wine with his passion for art, he returned to the Central Coast in 1998 and found winemaking to be the ideal outlet. Since 2001, Ben has worked with a small team to produce the vast array of Eberle wines, integrating his artisitic personality, with a hands on approach from the vineyard to the final wine.
"For me, making wine is about elegance. I pay attention to detail. As I like to say, my science background gets me through harvest, but it's my artistic side that helps me in blending and creating beautiful wines." - Ben Mayo, Winemaker
WWW.EBERLEWINERY.COM
CATE CONNIFF - COMMUNICATIONS MANAGER, NAPA VALLEY VINTNERS
ABOUT THE NAPA VALLEY VINTNERS
The Napa Valley Vintners nonprofit trade association has been cultivating excellence for 70 years by inspiring its more than 500 members to produce consistent quality wines, provide environmental leadership and care for the extraordinary place they call home.
OUR MISSION
To promote, protect and enhance the Napa Valley appellation, our wines, vintners and community.
OUR VISION
Through our collective efforts the Napa Valley will be:
•
The leading wine region worldwide
•
Preserved and enhanced for future generations
OUR GOALS
•
Position the Napa Valley as the premier wine region in the world
•
Champion and sustain the Napa Valley wine community
•
Engage and support our members through the work of an effective organization
Through our signature marketing programs, industry advocacy and comprehensive member resources, we work continuously to be the voice of the Napa Valley wine industry for consumers, members of the wine trade and media outlets around the globe, and we strive to be the essential trade organization for any vintner producing Napa Valley wine in the Napa Valley.
WWW.NAPAVINTNERS.COM