SEAN D. PITTS – GENERAL MANAGER, HAPPY CANYON VINEYARDS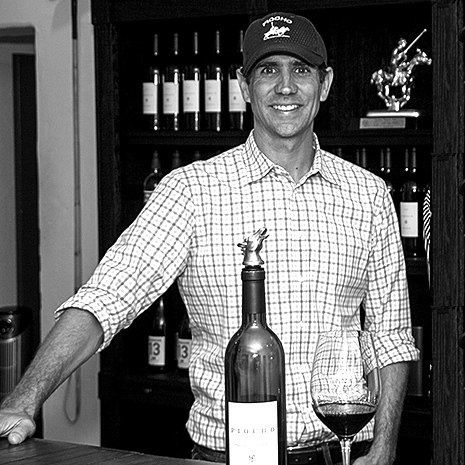 Happy Canyon Vineyard is a family owned and operated estate vineyard and boutique winery on the central coast of California that has gained esteem with our award winning Bordeaux varietal wines. Our vineyard is nestled into the undulating hills of the beautiful Piocho Ranch at the eastern most edge of the Santa Ynez Valley. The ranch and vineyard is where we, the Barrack family, call home. We have taken great pride over the years in being stewards of the land and created wines that are unique to the beauty, richness, and heritage of the "terroir". On our ranch we have two regulation sized Polo fields and many powerful Polo ponies where we blend our commitment to excellence in wine with a passion for Polo.
Happy Canyon Vineyard is nestled into the undulating hills of the beautiful Piocho Ranch, home to the Barrack family. The Barracks have taken great pride over the years in being stewards of the land and along with their wine maker Doug Margerum, have created something that is unique to the beauty and richness of the place. Piocho, is a Native American Indian word meaning "where the two rivers meet and go to heaven". The ranch is also home to the "Piocho" polo team.
There are the two top wines called Brand and Ten–Goal and two companion wines; PIOCHO is the champion wine which is a classic Bordeaux style. There is also a nouveau styled Bordeaux blend released each Easter (perfect with Spring Lamb) called CHUKKER.
The Cabernet Sauvignon Block 8 is a truly special vineyard; head trained vines planted to the steep hillside adjacent to the road. No tractor works here as the terrain has been untouched by machine.
ABOUT SEAN:
As General Manager of Happy Canyon Vineyards, Sean Pitts is responsible for all operations of the vineyard and winery including partner contracts and personnel management. Sean oversees the sales and marketing programs, distribution, financial management, wine tasting room and day to day functions. Sean is responsible for inventory control, as well as meeting financial and strategic goals of the winery. Sean currently holds all fiscal management duties, including financial analysis; budget creation, forecasting, managing labor cost and P&L oversight.
As part of the Happy Canyon Vineyards family, Sean ensures ongoing performance of the business by facilitating decisions on strategy, long and short term objectives, determining wine styles, managing vineyards and bulk wine production.
Sean holds a B.S. in Chemical Engineering from the University of Colorado and an MBA from Pepperdine's Graziadio School of Business and Management. Prior to working for Happy Canyon Vineyards Sean worked for over 14 years in the pharmaceutical industry working for companies such as Amgen, Genentech and Novartis.
WWW.HAPPYCANYONVINEYARD.COM
VIOLET GRGICH - CO-PROPRIETOR & VICE PRESIDENT OF SALES & MARKETING, GRGICH HILLS ESTATE
Grgich Hills Estate celebrates the 35th anniversary of The Great Chicago Chardonnay Showdown
In 1980 "The Great Chicago Showdown" brought together 221 of the best Chardonnays from around the world. Chardonnays from France, California, New York and even Bulgaria were collected for a historic first, the largest blind tasting of that time of one single varietal. The first vintage that Miljenko "Mike" Grgich crafted at Grgich Hills, his 1977 Chardonnay, emerged triumphant with a first place ribbon and the Chicago Tribune called it "The best Chardonnay in the world"! With this win so close on the heels of the famous 1976 Paris Tasting, where the 1973 Chateau Montelena Chardonnay that Mike made took first place over some of the best French white Burgundies and American Chardonnays, he soon became affectionately known as the "King of Chardonnay."
In 2015, Grgich Hills Estate will celebrate the 35th anniversary of this historic tasting and its legacy in Chardonnay with vintner dinners across the country, a photo contest, a new mobile application launch and much more, all culminating into two festive gala dinners. The first will be in Chicago on May 7, 2015 and the second in the Napa Valley at the winery on May 16, 2015. Mike Grgich believes this is a significant event not just for Chicago and Grgich Hills but for all of America since it proves that "Luck is when preparation meets opportunity."
Grgich Hills will launch "The Great Chicago Chardonnay Showdown" celebration starting on January 15, 2015. "This is a great opportunity for our winery not only to celebrate my father's many accomplishments but also Chardonnay, a varietal that is enjoyed and loved by so many people," says Violet Grgich. As Mike explains, "There is no scientific formula for making great wines. You make wines with your heart. You pour your love into them and nurture them like children, and transmit to them the richness of your spirit." That philosophy is the very heartbeat of Grgich Hills Estate.
The winery is partnering with publications such as Robb Report, Chicago Tribune, Saveur Magazine, Modern Luxury Publication Group, and Food & Wine Magazine to unveil this great celebration. In addition, Grgich Hills will launch the "Taste the Legacy Photo Contest," where consumers are encouraged to engage with the winery via social media and upload their best photos while enjoying Grgich Hills Estate wines. Each month will feature a different theme with the chance for consumers to win prizes on a monthly basis. The Grand Prize winner will win the ultimate grand prize - a trip to the beautiful Napa Valley for a once-in-a-lifetime experience at the Grgich Hills Estate winery and a private dinner with Mike and Violet Grgich.
ABOUT VIOLET:
Violet's passion for wine began at an early age, as she literally grew up accompanying her father in the vineyards and cellar. She spent her summers at the winery, doing everything from bottling line work to laboratory analysis and working in the tasting room.
Attending the University of California, Davis, Violet earned a BA in music while taking classes in biology, chemistry, and enology. After graduation, she returned home to Grgich Hills to continue her education in the wine business, learning about daily operations of the winery from Mike. She received her Master of Music in harpsichord at Indiana University, and then joined the winery fulltime in 1988. She's now responsible for daily management of the winery, as well as sales and marketing. She says that she has the ideal job: "I believe that wine is part of a healthy, happy and long life. Wine brings people together and makes them happy, which makes my job extraordinarily fulfilling."
Involved with every aspect of the wine business, Violet enjoys wearing many different hats, often at the same time. She explains, "My dad insisted that in order to lead the winery I needed to work at every single position, starting at the bottom." Violet continues to enjoy learning something new each day and following her grandfather's and father's philosophy of "Every day do something just a little better."
Violet is pleased that the next generation of Grgich's has joined the winery: Noel Grgich Shipman, her son born in 2005, accompanies her on sales trips, and enjoys every minute of it.
WWW.GRGICH.COM