HEATHER MURAN - EXECUTIVE DIRECTOR, SAN LUIS OBISPO WINE COUNTRY ASSOCIATION – CHATS ABOUT HAPPENINGS IN THE REGION
The wineries of SLO Wine Country boast an average distance of just five miles from the Pacific Ocean, resulting in prevailing marine conditions that are among the most pronounced of any wine region in California.
Collectively, these growing conditions forge a unifying wine quality that is native to SLO Wine Country: The reliable cooling effect of the nearby Pacific Ocean ensures a long growing season, enabling the grapes to achieve physiological ripeness and natural balance. Cool-climate varietals such as Chardonnay and Pinot Noir excel in the heart of SLO Wine Country, and even the warmest areas benefit from considerable marine influence. The ocean proximity also exerts a moderating effect on the climate, minimizing temperature swings so that growing conditions are rarely hot or cold. The result is an extraordinarily steady growing season that fosters balanced ripening and consistent quality from vintage to vintage. The imprint of the ocean is also evident in SLO Wine Country's uncommonly complex soils, which are frequently riddled with ancient sea fossils. Soil variation enables the winegrower to mix and match varietals to specific soil profiles, or to add more "colors" to the palette of a single varietal, heightening overall quality and complexity.
JACKY YOUNG – WINEMAKER, YOUNG INGLEWOOD VINEYARDS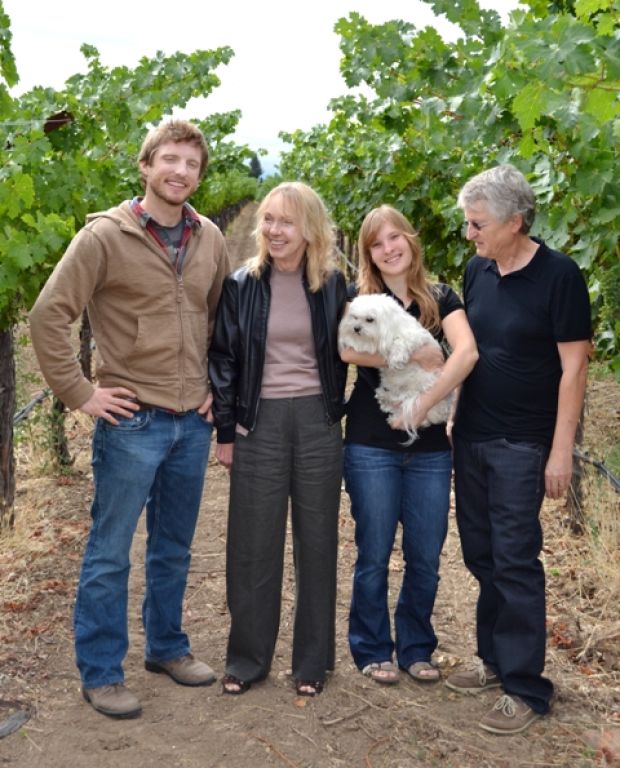 Jacky is Scott's mom and together they do the winemaking - although Scott does more of the day to day. The family lives onsite at the winery and oversee all grape growing and winemaking. The estate is set on 20 acres of which about 16 are undervine - planted to all four of the classic red Bordeaux varietals plus a small plot of Aligote, that just bore fruit for the first time this year. Their 800 case portfolio ranges in price from $25 for their Vin de Rose - a Rose made predominantly from Malbec - to $90 for their flagship Estate Cab. They also make a Right Bank Blend red wine and small wine club only bottlings (ie 50 cases each) of the other red Bordeaux varietals grown at their estate. They also produce two Chardonnays from off the property; one from Napa Valley, one from the Sonoma Coast. Their wines are sold via the winery, wine club and website and through distribution in select markets nationally - including of course California. The winery is open by appt only for in depth private tours and tastings. The price is $40 per person.
ABOUT US
Young Inglewood Vineyards is the result of a family's love for wine and for each other. At Young Inglewood, Jacky and Jim, Mary and Scott Young, father, mother, son, and daughter, work together to create wines inspired by our early love for French wine, but made in the Napa Valley - unmistakably grown from our historic St Helena vineyard. Balance is our guiding principle: balance in the way we grow our vines; the balance of tastes and sensations in our wines; and balance in the way we live and work.
JACKY AND JIM YOUNG
A love of wine and travel to the world's great wine regions have been a constant throughout Jacky and Jim's marriage. It was natural to them to pass that on to son Scott, Young Inglewood's winemaker, and to daughter Mary. Along the way the family got to know St Helena and the fine estate that is now Young Inglewood. Jacky and Jim devote all their time to the estate's management. Jacky can also often be found working and tasting side by side with Scott to help set the unique Young Inglewood estate style.
SCOTT YOUNG
Scott is Young Inglewood's winegrower and winemaker. Starting in 2007, when he moved to Young Inglewood to oversee the estate farming, Scott has produced a vintage every year, making 2015 his ninth vintage at Young Inglewood. Every season is different. Scott's philosophy is to seek out what is special to each, and make wine that accurately reflects it - to make wine "with the vintage." Each year, Scott relishes the hundreds of winegrowing and winemaking decisions necessary to achieve that goal and make not only wines we are proud to share, but wines that truly speak for the vintage, our family, and our vineyard.
WWW.YOUNGINGLEWOOD.COM