JEAN HOEFLIGER - WINEMAKER, ALPHA OMEGA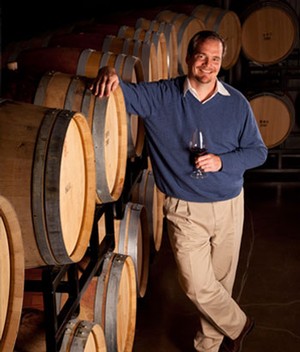 Alpha Omega | 1155 Mee Lane |St. Helena, CA. 94574 | Rutherford AVA
Alpha Omega, a family owned boutique winery, is located in the heart of Napa Valley on the Rutherford Bench. Alpha Omega began its journey in 2006 to be recognized as one of the great wine estates in the world. Handcrafting wines from historic vineyards in Napa Valley, Alpha Omega creates a wine that uniquely expresses the essence of the terroir of this famous wine region. Surrounded by vineyards and mountains, the beauty of this rustic, farm-style winery is as captivating as its wines.
Alpha Omega's extraordinary winemakers, along with historic vineyards, combine to create wines that express the essence of this famous wine region. Talented winemaker, Jean Hoefliger, has teamed up with one of the world's finest palates, Michel Rolland, to create wines that express their passion for excellence as well as the unique terroir that is Napa Valley. By procuring prized grapes from the many appellations of Napa Valley, our winemakers blend the essence of exceptional terroir ranging from valley floor, hillside, mountain and coast. Using natural techniques, they handcraft finesse-driven, complex and balanced wines, which express the aromatic profile of the best Napa Valley has to offer.
Hoefliger and Rolland's combined award-winning winemaking techniques create elegant, approachable and perfectly balanced wines of the highest quality through blending the best of Old World and New World wine styles. A gifted young winemaker and a master winemaker are discovering together the excitement of creating world-class wine from world-class grapes in world-class terroir for Alpha Omega.
Our tasting room is open daily from 10 am to 6 pm
ABOUT JEAN:
Jean Hoefliger was born and raised in Switzerland. His initial experience took him from Switzerland to Bordeaux, and South Africa, making wine at the esteemed estates of Chateau Lynch-Bages, Chateau Carbonnieux, and Meerlust. Completing a winemaking and viticulture degree at the Swiss federal school of Changins, Jean came to California where he spent five years as winemaker for Newton Vineyard before joining Alpha Omega. Jean's passion, knowledge, innate ability and scientific training puts him in a unique position to take the best grapes of Napa Valley and transform them into wines worthy of world class standing.
VINEYARDS:
Alpha Omega farms prized grapes from its own vineyards and from historic vineyards throughout Napa Valley such as Beckstoffer's To Kalon and Missouri Hopper in Oakville, Dr. Crane and Las Piedras in St. Helena, Georges III in Rutherford, Stagecoach in Atlas Peak and Sunshine Valley in Oak Knoll District. Our winemakers blend the essence of those exceptional terroirs ranging from valley floor, hillside, mountain and cost to bring complexity and different aromatic profiles to our wines.
WWW.AOWINERY.COM
MASTER SOMMELIER FRED DAME – SOMM: INTO THE BOTTLE
ABOUT FRED DAME:
Frederick L. Dame, Master Sommelier brings an impressive blend of experience, expertise and enthusiasm to the world of wine and cuisine. He is the first American to have served as President of the Court of Master Sommeliers Worldwide and assists restaurateurs and hoteliers in developing their wine programs in his role as Vice-President of Prestige Accounts, American Wine & Spirits of California. He is currently the President of the Guild of Sommeliers Education Foundation. He holds Honorary Professorships at Purdue University and The University of South Carolina.
Dame's ability to transmit his passionate interest in wine make him a natural teacher. One of just seventy-three Americans to have passed the Master Sommelier Examination, Dame was the first to successfully pass all three parts in a single year. This feat and his high score won him the coveted Krug Cup of the British Guild of Sommeliers in 1984. Dame founded the American Branch of The Court of Master Sommeliers in 1986 and has played an active role in the expansion of the Master Sommelier program throughout America since that time.
As Cellarmaster of The Sardine Factory in Monterey, California for twelve years, Dame created a wine list which won the Wine Spectator Grand Award. With the many wine events held in the brick and wine lined Wine Cellar, Dame turned The Sardine Factory into a wine destination restaurant of world renown. He is also active in the culinary arts serving as an Honorary Trustee of The American Academy of Chefs, the honor society of The American Culinary Federation. He was awarded the Antonin Careme Medal and was made a Supreme Knight of the Knights of the Vine in 2000. He was elected to the prestigious National Restaurant Association College of Diplomates in 2004. In 2006 he received Sante Magazine's Wine Professional of the Year as well as Starwine's Lifetime Achievement Award. In 2010 he was elected to the American Academy of Chefs Hall of Fame.
Dame is also an active member of the Confrérie de la Chaîne des Rôtisseurs, serving as the current Vice Conseiller Culinaire of the Monterey Peninsula Bailliage. He has been awarded Officier Commandeur in recognitiion of his 30 year membership with La Chaîne and is the recipient of the Bronze Star of Excellence, awarded for outstanding service by a Bailli.
A sixth generation Californian, Dame graduated from Washington and Lee University with a degree in journalism and communications. A European trip after high school piqued his curiosity about wine and food. Since then, he has applied his considerable persuasive skills to the service and appreciation of fine wine.
ABOUT SOMM: INTO THE BOTTLE
SOMM: Into the Bottle raises the curtain into the seldom seen world that surrounds the wine we drink. How many people understand how wine is produced? How it is grown? What goes on in the cellar? From those questions to how many hands touch a bottle, to why wine costs what it costs, to how certain wines end up on a wine list, this is a never before seen look into the world of wine.
By opening some of the world's most rare bottles of wine, the viewer will understand how a wine ages, what happens in a cellar and exactly what oak in wine means. The film takes a look at how history has impacted wine, from the Romans, to Prohibition, to the World Wars and even current events such as the Napa Earthquake.
Through the eyes of the world's greatest Somms and Winemakers, we discover that far more than just grapes go into the bottle.
Director: Jason Wise (SOMM)
Cast: Brian McClintic, Dylnn Proctor, Ian Cauble, Fred Dame
Producer: Jason Wise, Christina Wise (LAW ABIDING CITIZEN, JUMPER), Jackson Meyers