JOHN JORDAN - JORDAN VINEYARD & WINERY
Born in Colorado in May 1972—the same day his parents signed the deed on their first parcel of land in Alexander Valley—John Jordan has served as Chief Executive Officer of the winery since 2005.
Once Tom and Sally Jordan moved their family from Colorado to California wine country in 1979, John attended grade school in Healdsburg and spent his free time fishing on Jordan lake. He developed a love of airplanes during preparatory school and earned several aviation licenses before leaving for college: Private Pilot Certificate, Commercial Pilot Certificate with Instrument and Multi-Engine Ratings, as well as type ratings in Gulfstream and Citation aircraft.
John graduated from Occidental College in Los Angeles with an economics degree in 1995 and then continued his education at Empire College School of Law in Santa Rosa, Calif., receiving his degree in 2002. During college, he continued to feed his passion for flying and received his Airline Transport Pilot License at age 23. While studying law, John also attended graduate school and received a Master of Business Administration degree from the University of San Francisco in 2002. He also served in the military reserves in his twenties and thirties.
After passing the California Bar Examination in December 2002, John joined the Santa Rosa-based law firm where he'd worked as a clerk in college, then opened his own private firm in Sonoma County in 2004. In 2005, John stepped away from his thriving law practice to oversee day-to-day operations of the family winery. John moved back to the property in 2006, then built a home overlooking the lake where he grew up fishing.
With a commitment to preserving the foundation on which his parents successfully built the Jordan brand–elegant, balanced wines and exceptional hospitality—John has utilized his business acumen and philosophy to reenergize the winery. He has built upon Jordan's brand equity by fostering a culture of excellence where passionate, knowledgeable people are encouraged to perfect their respective crafts every day. From energy-efficient roofs, solar arrays and water recycling to fruit sourcing, extended bottle aging, soil-mapping studies, iPad integration and the overall hospitality experience, John has elevated the winery's relentless commitment to quality in every aspect of the business.
In 2010, John co-founded a technology company that specializes in digital wine list solutions for restaurants, including the Tastev in app. He also created the John Jordan Foundation in 2012—a private, charitable foundation focused on income stability and educational attainment, which funds projects in elementary schools for literacy and technology, as well as micro-loan programs for low-income families to launch small businesses. When not working, John enjoys flying his Piper Cub and fishing for bass on Jordan lake. He also serves as a professor at the Empire College School of Law, and speaks German and Russian. He shares his hillside home with his three dogs.
WWW.JORDANWINERY.COM
DON LABORDE – WINEMAKER, PARADUXX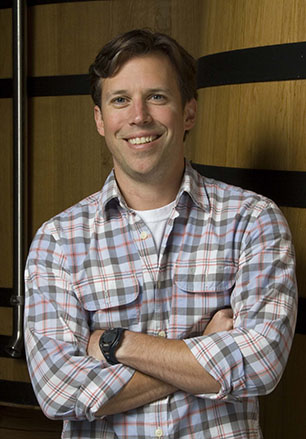 As the winemaker for Paraduxx, Don LaBorde is committed to the idea that the Napa Valley is capable of producing exceptional contemporary blends that showcase a uniquely Californian personality. Don combines his mastery of multiple grape varieties, winemaking experience spanning two continents, and a love of blending to make wines acclaimed for their stature and sophistication.
Though born and raised in Louisiana, Don gained an international perspective on winemaking by earning his wine science degree from Australia's Charles Sturt University— one of the world's most respected viticulture and enology schools. At Charles Sturt, Don was selected for the prestigious assistant research winemaker position at Australia's National Wine and Grape Industry Center, where he honed his skills with multiple grape varieties.
Don's experience working across the varietal spectrum continued at Napa Valley's Trefethen Family Vineyards, where Don was the enologist. At Trefethen, Don worked with all five red Bordeaux grapes, as well as Pinot Noir and Chardonnay. Working with Trefethen's Bordeaux varieties, Don developed a barrel-by-barrel approach to blending. Don further refined his approach to blending when he became the assistant winemaker at Francis Coppola Winery, in 2008, where he supervised winemaking activities at multiple facilities. "Like Duckhorn Wine Company, Coppola offered the rare opportunity to work alongside several great winemakers," says Don. "I gained invaluable experience that allowed me to fine-tune a small-lot approach to achieving small-lot quality."
Don joined Duckhorn Wine Company in 2011 as the associate winemaker for Sonoma County, overseeing Decoy. Recognized for his exceptional palate and his phenomenal ability to work with an array of varieties, Don was soon named the winemaker for Decoy, where he played a key role in establishing it as one of the modern wine industry's great success stories.
In 2014, in recognition of his skill as a winemaker, and his masterful blending ability, Don was named the winemaker for Paraduxx. "Paraduxx is a winemaker's dream," says Don. "Working with legendary Napa Valley growers and our own phenomenal Estate Vineyards, I get to work with the finest fruit in the world, and make wines that are not limited to specific grape varieties, or varietal percentages. We create our own benchmarks at Paraduxx. This gives us remarkable freedom to create iconic and compelling blends that capture the rich diversity of Napa Valley."
WWW.PARADUXX.COM