ERIC JOHANNSEN – WINEMAKER, CHAMP DE REVES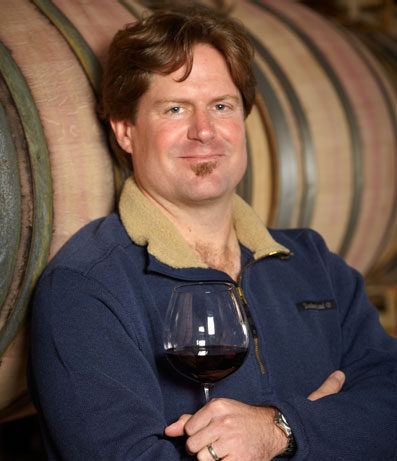 Since its founding in 2010, Champ de Rêves has become one of the premier producers of high altitude Pinot Noir in the Anderson Valley — a remote, mountainous, cold-climate AVA in Mendocino County. The centerpiece of Champ de Rêves is the 85-acre estate Boone Ridge Vineyard. Located just 18 miles from the jagged, weather-beaten Pacific coastline, this beautiful property climbs from 1,400 to 2,000 feet and features a myriad of aspects, soils, exposures and mesoclimates.
To take full advantage of the site's complex topography, the Boone Ridge Vineyard is divided into a patchwork of small blocks planted to seven different clones of Pinot Noir. Decomposed sandstone provides superb drainage and mineral uptake while naturally restricting vine vigor and yields. Winemaker Eric Johannsen knows his way around Pinot Noir, having previously worked at La Crema, Cuvaison and Williams Selyem prior to Champ de Rêves. His goal is to showcase the incredible personality of this high-elevation, maritime-influenced site. To that end, the yields are kept low, the grapes are harvested ripe (not overripe), the lots are kept separate until final blending and the influence of new oak is judicious. Champ de Rêves' Pinot Noir is a deep, aromatically-charged wine that showcases the high altitude and cold climate of its site.
ANDERSON VALLEY
Terroir and Culture
As a winegrowing region, there is no other Pinot Noir AVA in America that has more potential. The features of the valley are a Mecca for the cultivation of Pinot: here one finds daily, cooling maritime influence, dramatic geological contours with high mountains on either side of the valley, rocky soils and a mix of classic California flora and trees. The ensuing range of Pinot Noir flavor profiles and firm structural elements leave no doubt that the Anderson Valley is qualitatively superb.
Culturally, Anderson Valley is entirely unique. Isolated, eccentric, rugged and populated by artists, winegrowers, orchardists and long-time residents, it has its own flavor and a colorful, much-beloved history.
CHAMP DE RÊVES
Inspired focus on a single wine. We make only one wine—Pinot Noir. Characterized by aromas and flavors of blue/black fruit, floral and spice elements, earth and a distinct minerality, Champ de Rêves' calling card is its mouthfeel, which exhibits both a silky textural trait and a firm, gravelly structure that's a testament to its high altitude origins.
BOONE RIDGE VINEYARD
Situated at a lofty elevation (1,300-2,000 feet) above Boonville, the Champ de Rêves vineyard site features a patchwork of small blocks planted to seven different Pinot Noir clones. Decomposed sandstone provides superb drainage and mineral uptake while naturally restricting vine vigor and yields. A dream of a Pinot Noir vineyard, its continued evolution will confer greater complexity to the wines with each new vintage.
OUR WINEMAKING PHILOSOPHY
Practice minimal intervention.
Strive for balanced wines.
Avoid over-ripeness.
Encourage desirable indigenous flora.
Use gentle handling to preserve the delicate nuances of the fruit.
Be judicious in the use of new oak.
Showcase the best of the site/region.
Enjoy the wine with good food and good company.
WWW.CHAMPDEREVESVINEYARDS.COM
ALEX GUARACHI- OWNER AND WINEMAKER, GUARACHI FAMILY WINES
Alex Guarachi is owner and winemaker of Guarachi Family Wines and founder of Guarachi Wine Partners (formally TGIC Global Fine Wine Company).
Alex came to the United States over 31 years ago on a soccer scholarship from his native country, Chile. However when an injury shattered his athletic dreams, he went back to his roots to find a new aspirations. While living in the backyard of Napa Valley and Sonoma County – where South American wines had previously been unknown – Alex saw opportunity. He endeavored, against all odds, to carve out a share of the American wine market for the extraordinary wines from his home country. As a result, he began the uphill journey of entrepreneurship and started importing Chilean wines into Napa and Sonoma. Behind every successful business is struggle and this was no exception. Alex worked from a garage and performed every single task himself. He was the order taker, the warehouse manager, the salesman and even the truck driver in an attempt to gain recognition and put his foot in the door. Despite the challenges that he faced, Alex forged his company into a leading importer, marketer, and producer of fine wines.
Guarachi Wine Partners became one of the first importers of Chilean and Argentine wines and has grown exponentially to represent wines from around the world. It is now the second largest importer of South American wines and in 2010 was honored as Importer of the Year.
In 2007, after 25 years of serving as the founder and president of GWP, Alex Guarachi poured his passion for building wine brands into his own high end & boutique label, Guarachi Family Wines, with well-crafted and limited bottles of Cabernet Sauvignon from Napa Valley and Pinot Noir from the Sonoma Coast. It has since expanded with the acquisition of prestigious estate vineyards, such as Meadowrock in the Atlas Peak appellation of Napa Valley and Sun Case overlooking Gap's Crown in the Sonoma Coast Petaluma Wind Gap.
Alex serves as a testament to the American dream. The living embodiment of what one person can accomplish with an idea and the will to create something for himself and a legacy for his family.
GUARACHI FAMILY WINES FOCUSES ON TWO KEY VARIETALS:
•
Cabernet Sauvignon from the Napa Valley
•
Pinot Noir from the Sonoma Coast in California.
As we are obsessed with quality, all of the grapes we select for our wines are from some of the most expensive vineyards in America.
•
Meadowrock
•
Sun Chase
•
Las Piedras
•
Brokenrock,
•
To Kalon,
•
Gap's Crown
WWW.GUARACHIFAMILYWINES.COM