ROBIN KELLEY O'CONNOR - WINE SPECIALIST, BLOGGER AND SOMMELIER – SEASONAL WINE TRENDS
A leading wine educator, international wine judge, wine writer, and sommelier, Robin Kelley O'Connor is a leading wine expert. His thirty years of experience, authority and passion enable captivating seminars, dinner events and wine education and allows him to offer an unparalleled suite of services to corporations and individuals from around the world.
Robin serves as a guest wine instructor and examiner for the Intensive Sommelier Training program at the International Culinary Center. ICC is one of the leading culinary educational institutions in the U.S., with campuses in New York and Napa Valley. It is a world class institution dedicated to the culinary arts and vinous education.
Mr. O'Connor was previously Lead Specialist & Head of Wine,
Americas for Christie's Auction House. He is a Christie's trained charity auctioneer. Prior to Christie's, he was Director of Sales and Education for Manhattan wine and spirits retailer Sherry-Lehmann, winner of Wine Enthusiast Magazine's 2010 Wine Retailer of the Year Award. Preceding Sherry-Lehmann, he was Trade Liaison and director of trade and consumer education in the Americas for the Bordeaux Wine Bureau (Conseil Interprofessionnel du Vin de Bordeaux) for 20 years. He remains intimately involved with the Bordeaux wine community and was the first American to be certified as an International Bordeaux Wine Educator.
Robin also has worked with Italian Wine Merchants (IWM), where he was the Director of Education, resident Bordeaux expert, weekly contributor to the IWM blog and "Expert Picks," as well as a member of the editorial team for the daily IWM e-Newsletter.
Robin holds Certified Specialist of Wine (CSW) and Certified Wine Educator (CWE) certifications from the Society of Wine Educatorsand passed the Court of Master Sommeliers Certified Sommelier exam. O'Connor served as president of the Society of Wine Educators from 2003-2007, is on the board of directors of the New York Chapter of the American Institute of Wine & Food and has been a regular panelist at the Food and Wine Magazine Classic in Aspen for over 25 years. He speaks annually at Pebble Beach Food and Wine, the premiere epicurean lifestyle event on the West Coast.
As a popular wine educator and spokesperson, he has conducted over 2,500 seminars; written for the Trenton Times, Santé Magazine, Wine & Spirit; and served as senior editor for Kevin Zraly's Complete Wine Course 25th Anniversary Edition. For over a year during 2008-2009 he traveled around the world with Kevin visiting over 20 Countries, 80 wine regions, 500 appellations and tasted more than 7,000 wines.
Among his many professional honors, Mr. O'Connor bears the distinction of induction into the wine world's most prestigious institutions, including the Commanderie du Bontemps de Médoc- des Graves et de Sauternes-Barsac, the Jurade de Saint-Emilion and Les Hospitaliers de Pomerol.
WWW.RKOVINE.COM
STU SMITH - GENERAL PARTNER & ENOLOGIST, SMITH-MADRONE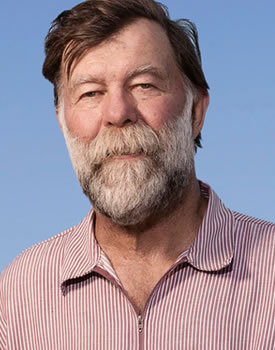 Brothers Stuart and Charles Smith are the vineyard managers and winemakers of Smith-Madrone Winery. Also in the family attic is the Fetherolf family, German farmers from the Palatinate region, who came to America on the Good Ship Thistle in 1730. The name for the winery came as a tribute to the Smith brothers who pursued their dream and to the Madrone trees which distinguish the property.
In May 1971, with a partnership of family and friends, Stuart Smith bought the 'terroir' which today is Smith-Madrone Vineyards & winery. He was 22 years old and had just received his B.A. in Economics from UC Berkeley and was taking classes towards his Master's in Viticulture at UC Davis. In trying to find land to plant vineyard in the Napa Valley, through a family friend he explored a forest on the remotest and highest part of Spring Mountain and discovered that the land had been a vineyard in the 1880s and in fact had been part of the wagon trail route between Napa and Santa Rosa. Today he is respected for his expertise and leadership as a mountain vineyardist.
Stuart was born and raised in Santa Monica. While pursuing his master's at UC Davis, Stuart was the first teaching assistant for wine industry pioneers Maynard Amerine and Vernon Singleton in 1970-1971. He taught enology at Santa Rosa Junior College and Napa Valley College; he has chaired the 1986 and 2006 Napa Valley Wine Auctions. He is an active member of the G.O.N.A.D.S. (the Gastronomical Order for Nonsensical and Dissipatory Society), a group of Napa Valley vintners who started getting together for monthly lunches in the 1980s. He served on Napa County's Watershed Task Force for several years, appointed by the Board of Supervisors; in 2006 he was appointed again by the Board of Supervisors to sit on Napa County General Plan Steering Committee, responsible for updating Napa's General Plan, a three year project. Stu also serves as auctioneer for an Omaha (NB) charity auction every year.
Stuart served as Scout Master for St. Helena's (Boy Scout) Troop One for many years. He is an avid canoeist, having canoed through the Quetico Wilderness in Canada many times and often canoes the Klamath and Trinity Rivers in California. He has five children and one grand-child; the family includes a photographer, beekeeper/artist, management information specialist, up-and-coming winemaker, distributor salesman and high school sophomore.
WWW.SMITHMADRONE.COM