GARY EBERLE – ENOLOGIST/GENERAL PARTNER, EBERLE WINERY - VINTAGE PASO: ZIN WEEKEND (MARCH 17-19)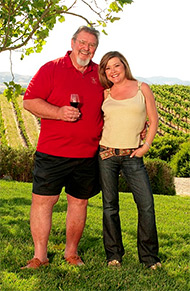 CELEBRATE VINTAGE PASO WEEKEND AT EBERLE WINERY!
THE PASO ROBLES PIONEER GARY EBERLE
Gary Eberle grew up in a small town in Pennsylvania and went to Penn State on a football scholarship. After graduating with a Bachelor's of Science in biology, he attended Louisiana State University (LSU) where he continued his graduate work studying cellular genetics. While attending LSU, Gary developed an appreciation for wine and changed his academic path to become a winemaker. He traveled west to California to study enology at U.C. Davis where he received a degree in Enology in 1971 and then headed south to Paso Robles in 1973.
Gary launched his career as a winemaker and as the "Pioneer" of Paso Robles Wine Region by helping to establish his family's Estrella River Winery & Vineyards. In the late 70's, he decided to pursue his own project and acquired nearly 64 acres just down the road from Estrella River Winery. Shortly thereafter, Gary released his first Eberle wine, the 1979 Cabernet Sauvignon debuting the iconic boar logo, depicting the German origin of the name Eberle, meaning "small boar."
THE WINERY
By 1984 the Eberle Winery production facility and tasting room were open for business and in 1994 Gary expanded underground, building the first wine caves in Paso Robles. Now, over 30 years later, Gary Eberle still greets guests daily with complimentary wine tastings, public tours of the production facility and 16,000 square feet of underground caves. They also play host to a variety of delicious and entertaining events held at the winery throughout the year.
WWW.EBERLEWINERY.COM
DAVID W. HEJL - FOUNDER / WINEMAKER, DOMAINE DELLA
David Hejl, Former General Manager and CEO of Kosta Browne and Founder and Winemaker of DOMAINE DELLA is introducing a luxury Pinot Noir to the market. This wine label honors his family's mother who died long before her time. DOMAINE DELLA's mission is to craft intense and adventurous wines partnering with the very best growers to make a wine that inspires and creates special moments with those that matter and timeless memories. Extremely limited production from the finest sourced grapes in the Russian River and Sonoma Coast offered and first released commercially in 2014.
DOMAINE DELLA wines are released in the Spring and Fall over a three week period twice a year to active "list" members. Join the list www.domainedella.com
WWW.DOMAINEDELLA.COM