WES HAGEN - CONSULTING WINEMAKER, BRAND AMBASSADOR, J. WILKES WINES
Jeff was committed to promoting the Santa Maria Valley; a place he considered home and cared about deeply. By offering a Pinot Noir, Chardonnay and Pinot Blanc under the J. Wilkes imprimatur of quality, we hope to introduce a new generation of wine drinkers to wines of typicity from a venerated appellation. We hope these wines serve not only as ambassadors of an iconic growing region, but also as an introduction to three varietals that merit much pursuit and discovery. The J. Wilkes brand was established in 2001 by Jefferson Wilkes, a widely respected wine industry veteran who loved the community of Santa Maria and sailing the Pacific Coast. Since Jeff's passing, the J. Wilkes brand has carried forth with a simple mission: to deliver wines of varietal character, at affordable prices, that highlight the virtues of the Santa Maria Valley appellation.
ABOUT WES:
Wes worked as Vineyard Manager and Winemaker at Clos Pepe Vineyards and Estate Wines in the Sta. Rita Hills for 21 years and is considered an industry leader in Santa Barbara Wine, having served for more than a decade on the Board of Directors for both Santa Barbara County Vintners and Santa Rita Hills Winegrowers Alliance. Wes is an accomplished wine writer, researcher and lecturer; He has written for the L.A Times Magazine, Sommelier Journal, Burgundy Report and has appeared and been featured / quoted numerous times in the Wine Spectator, Wine Advocate and Wine Enthusiast. Wes researched, wrote and had approved the last three AVA's in Santa Barbara County: Sta. Rita Hills, Happy Canyon and Ballard Canyon. Wes taught the Food and Wine Pairing program at Allan Hancock College for four years and has lectured on the History of Wine and Santa Barbara Wine at Cornell University, Caltech and many, many other prestigious institutions. His most recent achievement is having been nominated for a TED-talk on the History of Wine. Wes has an active and impressive social media following on Facebook (Wes Hagen), Twitter, Instagram and Delectable (@weshagen).
JWILKES.COM
DOUG MINNICK, WINEMAKER & CO-FOUNDER/FESTIVAL DIRECTOR THE GARAGISTE FESTIVAL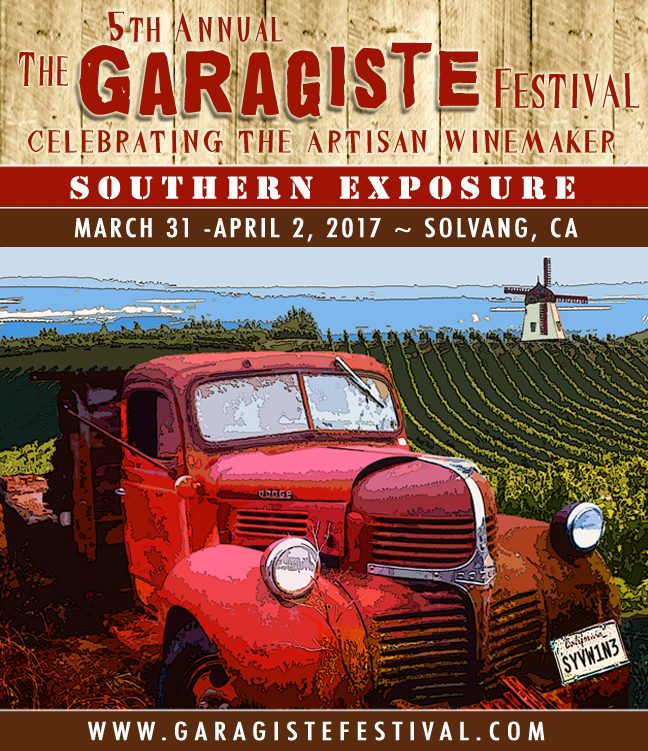 5TH ANNUAL GARAGISTE FESTIVAL
CELEBRATING THE ARTISAN WINEMAKER
SOUTHERN EXPOSURE
MARCH 31-APRIL 2 2017 ~ SOLVANG, CA
ABOUT THE GARAGISTE WINE FESTIVALS:
The Garagiste Wine Festivals (http://www.garagistefestival.com) are the first and only wine festivals dedicated to the undiscovered and under-recognized American artisan 'garagiste' producers who are making some of the best, most exciting, handcrafted small-lot production wines in the world. Founded by fellow garagistes Stewart McLennan and Douglas Minnick, the Garagiste Festivals are committed to discovering the best and most innovative limited-production winemakers and promoting and showcasing them to a broad audience of discerning wine consumers.
In addition to its flagship annual festival in Paso Robles, CA, the Garagiste Festival line-up includes Garagiste Festival: Southern Exposure, featuring Santa Ynez Valley garagistes; the Garagiste Festival: Urban Exposure, in Los Angeles; garagiste mini-tastings presented from So Cal to Tahoe; winemaker dinners, a newsletter, garagiste profiles and more. The festivals were named one of the 'Top Nine Incredible Epicurean Vacations' in the world by ABC News,* "one of the premier wine events of the year," by the LA Times and "Best Festival" by Sunset Magazine's 'Best of the West.' The festivals are produced by Garagiste Events, a non-profit dedicated to furthering the education of future winemakers and those training for employment within the wine industry. Proceeds from the festivals support the Garagiste Festival Scholarship fund of the California Polytechnic State University at San Luis Obispo Wine and Viticulture Department.
ABOUT DOUG:
Doug Minnick is the Co-Founder of The Garagiste Festivals. Minnick knew what he wanted to do with his life on February 9th, 1964 when as a 7 year old boy in suburban Chicago, he saw The Beatles perform on The Ed Sullivan Show. After 11 years playing in rock and roll bands and ignoring his schoolwork, he took off on a cold February day in a 1967 Buick Elektra 225 bound for L.A., palm trees, and the music business as an 18 year old with $500 in his pocket. Working his way up from the mailroom (no kidding) at A&M Records and surviving a successful career as a Music Business executive in the 80s, Doug eventually chucked the corporate music world for the uncertainty of an independent, two-man start-up. Ten years later, with the independent start-up now a multi-million dollar success story, Minnick again proved unable to control his passions, this time tossing the music business for the world of wine. Particularly Central Coast wine. Doug is now the Co-Founder (with Stewart McLennan) of The Garagiste Festivals, which feature high-quality, limited-production artisan winemakers – Garagiste has emerged as the most unique and influential wine event in California. By helping small-production wineries connect with their audience, The Garagiste Festival truly impacts the business of these winemakers while satisfying their fans' desire to discover high-quality, hard-to-find wines. Everybody wins. Doug owns (with three partners), and is winemaker for, his own winery, Hoi Polloi. http://www.hoipolloiwinery.com/ The Garagiste Festival:Southern Exposure takes place this Friday and Saturday in Solvang, featuring over 40 micro-production wineries.
CALIFORNIAGARAGISTES.COM
WWW.HOIPOLLOIWINERY.COM