BOB CABRAL - FOUNDER/WINEMAKER, BOB CABRAL WINES
WHY NOW?
I'VE BEEN MAKING WINE SINCE THE 70'S. In that time, I've worked for some of the most iconic brands, won a bunch of awards, and made fantastic friends who continue to fill my soul with joy. Why, then, would I start my own wine label at this point in life?
To get back to basics: Growing grapes, making wine, and being creative along the way. I also want to use the wine as a way to give back to the community, and support charities in my adopted hometown of Healdsburg, Sonoma County, and beyond.
A funny thing happens in the wine industry—the more success you have as a winemaker, the less independent you become. Sure, the process is always challenging, but with accolades come expectations, and with expectations come a host of responsibilities that are only peripherally connected to the craft. Managing people. Running companies. Marketing the brand all over the world. Don't get me wrong—I understand these things are important to the bottom line, recognize the value they bring to a winery operation, and appreciate the unique opportunities I had to be that guy. For me, however, it was time to return to the grassroots approach that got me excited about winemaking in the first place.
WINES
IT'S BEEN ALMOST 40 YEARS SINCE MY FIRST VINTAGE. In that time, I've made wines for several of the biggest big-name wineries, and in general, crafted them the way other people have wanted them made. Now I see this as my turn to make wine the way I believe it should be made, without apologies, no holds barred.
Another way I like to think of it is "full-throttle" Bob Cabral winemaking. This means the wines are the result of the best of everything I have access to, no considerations for anything less. I'm trying to find the best vineyards to work with; I don't really care what the grapes cost. I want the best barrels available, and I'm using some custom-toasted barrels for a lot of these wines. The best isn't always the most expensive, by the way. Really, it's just that the handcuffs are off. It's all about my winemaking thought process. I'm trying to make the best wines I think I can craft on a given vintage from the sources that I've chosen to use as raw materials. It's about vision and individual interpretation.
I envisioned these wines having a high yum factor with little winemaking intervention. They'll go great with food. They have long, full finishes. And they'll age well. I really don't want these to be trophy wines. I would like to have people drink them and enjoy them. When people do taste these wines, I hope the experience goes beyond the cranberry, cherry, clove, earthiness, tartness, and other descriptors we've come to accept as typical. I want people to feel them, go back to memories of another time, and get caught up in creating new memories, right then and there.
I'm launching with three wines blended by geographical region. You'll notice that I'm not doing any single-vineyard wines yet, and that's purposeful. I believe there's this myth that blended wines are of lesser quality than single-vineyard wines. I completely disagree with that way of thinking about wine. I've spent much more time and thought with my blended wines—when I'm making them, I can blend away defects and almost craft the perfect wine. This project is about that passion, and these are the types of wines I love crafting.
WWW.BOBCABRALWINES.COM
DANA EPPERSON - WINEMAKER, MIGRATION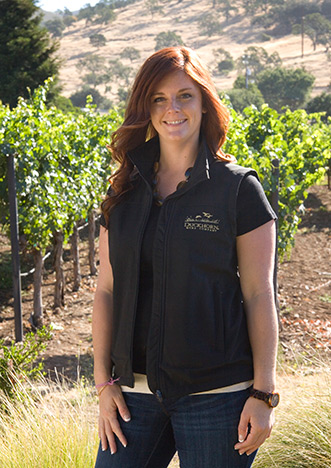 OUR HISTORY AND PHILOSOPHY
Since its premier vintage of Pinot Noir in 2001, Duckhorn Wine Company's Migration has earned acclaim for a refined and compelling style of winemaking that seamlessly balances vibrancy and finesse.
Embodying the lush elegance of cool-climate California winegrowing, Migration's exploration of the great Burgundian varietals began in the Anderson Valley, where Duckhorn Wine Company cultivates four estate Pinot Noir vineyards, spanning 207 vine acres. Shaped by the valley's cool nights, fog-shrouded mornings and mild, sunny afternoons, this world-class fruit established Migration's stylistic identity—producing sophisticated wines with abundant fruit and bright acidity.
Building on what Migration had already achieved with Pinot Noir,making Chardonnay in a similar style became a natural next step. In 2008, Migration produced its first Chardonnay, using fruit from elite vineyard sources in the Russian River Valley. Representing the first Chardonnay in Duckhorn Wine Company's 30-year history, this highly anticipated wine was released in the spring of 2010. Beginning in 2011, Migration also began making a Russian River Valley Pinot Noir, and together, these two exceptional wines form the cornerstone of the Migration portfolio.
Today, guided by winemaker Dana Epperson — a cool-climate Pinot Noir and Chardonnay specialist — Migration has taken flight. Defined by the idea of movement, Migration is dedicated to going beyond its original home and exploring Pinot Noir and Chardonnay from California's finest cool-climate appellations. "Traditionally at Duckhorn Wine Company," says Dana, "the character of a particular wine is deeply connected to a specific place or region. Migration offers a different paradigm. We are starting with a clearly defined style and exploring how that style can be expressed in different winegrowing regions, which is a fascinating prospect."
WINEMAKING
A third generation Sonoman, Dana Epperson is the gifted winemaker who guides Migration's exploration of world-class, Burgundian-varietal winemaking. Combining her extensive viticultural background with winemaking experience gained working in several top California wine regions, Dana practices a vineyard-driven approach to winemaking that accentuates the character and complexity of the renowned winegrowing sites Migration partners with.
WWW.MIGRATIONWINES.COM
DUCKHORN.COM