SCOTT RICH - WINEMAKER, MORAGA VINEYARDS - LA'S MOST PRESTIGIOUS BORDEAUX STYLE WINE
Moraga Vineyards is a wine growing estate in the Santa Monica Mountains at an elevation of 600 to 900 feet, five miles from the Pacific Ocean in the Los Angeles community of Bel Air. From the care of each individual vine, to the selection and blending processes, to the hand labeling of each bottle, every effort is taken to produce wine of distinctive style and quality.
OUR STORY
Grapes are not foreign to this canyon land. The overland expedition of Don Caspar de Portola, which established the route of the California missions (El Camino Real), passed by Moraga Canyon in August of 1769. In his diary, expedition member Father Juan Crespi mentions a "profusion of wild grapes and Castilian roses in full bloom" in the canyon. Wild roses still exist on the property and are represented on the four corners of the Moraga wine label.
OUR WINES
Our focus is to create the highest quality wine while preserving the essence of place. With the experience of each vintage, we have been able to improve our understanding of the ripening patterns of the vineyards. We selectively pick from vines that have come to full maturity on the basis of taste. Ultimately, it is all about flavor and tannin development.
MORAGAVINEYARDS.COM
RUSS JOY CURRENTLY SERVES AS VICE PRESIDENT OF THE SONOMA COUNTY VINTNERS BOARD AND IS A 4TH GENERATION GRAPE GROWER.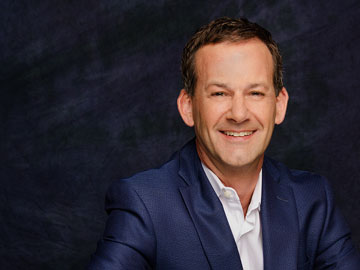 TASTE OF SONOMA :
LABOR DAY WEEKEND | SEPTEMBER 2, 2017
DONALD AND MAUREEN GREEN MUSIC CENTER AT SONOMA STATE UNIVERSITY
Nestled in the picturesque foothills of Sonoma County's esteemed wine country, the Donald and Maureen Green Music Center at Sonoma State University offers an exciting new location for an event where Sonoma County's top winemakers, growers and chefs come together to celebrate the region's finest wine and food.
At Taste of Sonoma at Green Music Center at Sonoma State University you'll taste your way through a microcosm of Sonoma County's most incredible flavors. Over 200 wineries pour literally thousands of wines. Over 60 local chefs concoct their most perfect pairings. All set within the backdrop of musical inspiration.
Plus, you're invited to experience seminars and demonstrations that cover a wide range of topics from terroir to technique, as well as chef's tips and tricks. Taste of Sonoma is THE wine and food event of the year, and it promises a weekend filled with fabulous wine, food and fun. Club Reserve ticket holders also receive exclusive VIP access to the entire event from 11 AM to noon on Saturday, September 2nd prior to the general admission entrance opening at 12 PM.
SONOMAWINECOUNTRYWEEKEND.COM
SONOMACOUNTYWINEAUCTION.COM