PETER MONDAVI JR. – CO-PROPRIETOR, CHARLES KRUG WINERY
Now under the guidance of Peter Mondavi Sr., the Charles Krug Winery honors its roots while forging ahead to the future. From the Wild West to the twenty-first century, relatively crude beginnings gave way to the finest form of winemaking.
Founded in 1861 by Charles Krug, the 27-year old Prussian immigrant came to America with little besides willpower and a willingness to work hard to build the cornerstone of the first winery in the Napa Valley. He became the major local winery figure of his era, greatly influencing Napa Valley's development as a world-renown wine producing region.
His leadership was said to be inspirational and his ideas innovative. Charles Krug introduced the cider press for winemaking, the first of which is still on display at the winery. He carefully selected rootstocks, varietals and vineyard sites - a novel concept in late 19th century America.
After his death in 1892, James Moffitt held the winery in proprietorship through Prohibition. By 1943, he found a pioneering spirit in Cesare Mondavi, an Italian immigrant with a passion for wine, and sold the winery to his family for $75,000.
At 60 years old, Cesare Mondavi spearheaded a dramatic renaissance in the decade that followed. Wine historian Charles Sullivan writes in his book, Napa Wine, "By the early 1950s it was irrefutable that the Valley's Big Four had been augmented by one - the Charles Krug Winery".
Cesare died in 1959 leaving Rosa as President with sons Robert as General Manager and Peter as Vice President. In 1966, Robert moved south to Oakville and began construction of his own winery. Upon Rosa's death in 1976, Peter became President of the winery.
Peter's industry innovations from his studies at Stanford and Berkeley included revolutionary research on cold fermentation, enabling the production of exceptionally crisp, fruity white wines. His pioneering efforts to plant vineyards in the Carneros region with chardonnay and pinot noir grapes, cold sterile filtration techniques and aging wine in small French oak barrels contributed to his being named one of the twelve "Living Legends" in 1999 by the Napa Valley Vintners Association.
Above all else, Charles Krug Winery is a family winery. Peter Sr. and his sons Marc and Peter Jr. continue their dedication to producing the finest Bordeaux style wines in the Napa Valley. To achieve this, they initiated a nine-year, $22 million investment program completed in 2010. Over 400 of the winery's 850 prime acres in Napa Valley have been re-planted and state-of-the-art winemaking equipment is now in use.
WWW.CHARLESKRUG.COM
FRED SCHERRER – SCHERRER WINERY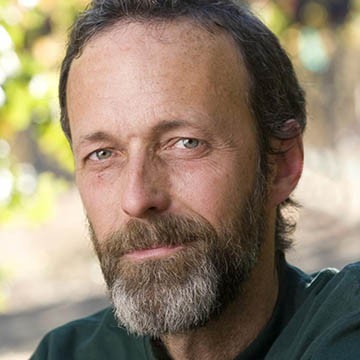 THE WINERY AND WINEMAKING
"In the mid-1970's, due to a normal teenage interest in alcoholic beverages, my family allowed me to make some wine from the family vineyard and beer at home (under adult supervision, of course). This led to a UC Davis degree as well as concurrent work at a local winery doing the dirtiest and most menial jobs imaginable. In the mid-1980's good friends at Duxoup Wine Works (think Marx Brothers for the pronunciation) inspired me to try my hand at my own label so I negotiated cellar space in lieu of a raise by my then-current employer, Greenwood Ridge Vineyards in Anderson Valley (I got a raise anyway). Greenwood Ridge was supportive of my project and decided to have some Scherrer Zinfandel produced for their label as well. Unfortunately, I had a poor business plan and during the first year I realized I was not yet ready for this project. Greenwood Ridge continued to make a small amount of Scherrer Vineyard Zinfandel for many years.
Enter Dehlinger Winery in the late 1980's. Tom Dehlinger was very supportive of my long-term plans and challenged me to develop a solid business plan, facilitating an important entry into my own project. In return, his winery received my heart and soul for a decade. The final key element in our getting started was from my parents. They allowed me to delay paying them for their fine grapes until we began getting cash flow from our wine sales. By 1997, we were ready to make the move to a facility of our own. In anticipation of this, we were able to add Cabernet Sauvignon and Chardonnay to supplement the Zinfandel we were producing, all from my father's vineyard in Alexander Valley. Tom Dehlinger supported this transition of my focus, allowing me to produce these additional wines in his facility and we parted very amicably after that vintage.
And so after the harvest of 1997, I moved our operation to a corner of an apple packing shed-turned-winery, finally leasing the entire building. During this period, our production grew from just the three varietals from Scherrer Vineyard, to now typically a dozen wines, about half of which are Pinot Noir. Total production is now 4000 to 5000 cases. My good frieStefanie Salem is the Founder & CEO of the Newport Beach Wine & Food Festival. Salem takes her entrepreneurial and international business background combined with her insatiable love for all things food, wine and cooking to curate and lead all programming for each year's event. Her 20 years of business experience, which includes living and working in foreign countries, collaborating with political leaders and leading projects with economic corporations, has played a key role in helping her secure high-profile sponsors, participants and partners to make the Festival a true world-class event.
Salem's impressive career accomplishments have included: promoting foreign investment in emerging markets by working with Heads of State, Ministers and CEO's of multinational and local corporations in the countries of Greece, Indonesia, Zimbabwe, Kazakhstan, Ukraine and Nigeria. Salem also led editorial advertising in US News and World Report, Sunday Telegraph (UK) and USA Today. Subsequently, she was Founder and President of Hampton Court Publishing, London, which published "In God's Time, the Building of a Democratic Nation", focusing on the cultural, historical and political independence of Nigeria where she worked with President Obasanjo, Vice President Abubakar, all 36 Governors and Ministers. After founding the Newport Beach Wine & Food Festival in 2014, Salem was honored as one of the "Most Influential People of 2015" by Newport Beach Magazine. In that same year, the Festival was also touted as the "Top 5 Places to Travel to in October (World-wide)" by Forbes Travel.
Salem considers herself a "taste-bud traveler", gaining much of her inspiration for the Festival by experiencing cultural cuisine throughout her international business travels, and today, traveling the world with her two sons, family and closest friends. Salem also enjoys frequenting restaurants around Orange County, wining and dining with her chef and master sommelier pals, cooking gourmet meals at home and never missing an episode of "Top Chef."
Salem was born and raised in Southern California and earned her BA in Psychology from UC Santa Barbara in 1992.nd, Don Bliss helped me whenever I needed a hand (or a finger to dial 911 in the unlikely event of a forklift mistake) during the first years until he sold his fine vineyard and moved back to his native Texas in 2006. Since then, I have been able to impose on a handful of friends and local customers when I have needed help, but still continue to work at the winery pretty much alone most of the year. Judi, my wife, has handled administrative and compliance for the winery since 2002, keeping me out of trouble with bureaucrats and making sure we are able to conform with the complex and changing world of direct shipping and wholesaling laws, reports and fees."
WWW.SCHERRERWINERY.COM