JEAN-FRANÇOIS PELLET - WINEMAKER, PARTNER, PEPPER BRIDGE WINERY - LAUNCHES HARVEST NO. 20
PHILOSOPHY
Attention to detail and functionality were the driving forces behind the design and construction of Pepper Bridge Winery. The three-level winery is built into a hill, set against the stunning backdrop of Pepper Bridge Vineyard. We are Certified Sustainable.
By utilizing innovative design and techniques, Pepper Bridge Winery has enhanced its quality and dedication to crafting premium wines. We built the first state-of-the-art, gravity-flow facility in Washington state, complete with subterranean caves. In a gravity-flow winery such as this, the grape pulp and juice are moved from the sorting table to the tanks to the barrels via gravity, rather than by pumps. This gentle treatment of the grapes prevents the shearing of seeds and the introduction of bitter tannins. Pumps are a choice rather than a constraint. As a result, all of our wines have elegant textures and exquisite flavor profiles.
Winemaker Jean-François Pellet was also the consulting developer of a new optical sorter - yet another step in improving overall wine quality. You can view a video about this below.
ESTATE VINEYARDS
Our estate vineyards - Pepper Bridge, Seven Hills, and Les Collines - produce some of the most sought-after grapes in the state. Furthermore, these vineyards are leaders in the practice of sustainable agriculture. We are committed to environmental stewardship, implementing the following practices within the vineyards:
Applying compost tea to restore fungal and microbial components to the soil and feeding the tea with molasses. The compost tea contains living organisms and thus needs to be fed in order to stay alive!
Adding compost to the soil to restore the soil humus.
Using drip irrigation and buried soil-moisture monitors to ensure we do not waste water by irrigating below the roots of the vines.
Leaving some ground cover un-mowed to preserve the habitat for beneficial insects.
Planting wild roses and leaving blackberries where they exist to provide winter habitat for a parasitic wasp that attacks leafhoppers.
Utilizing organic products such as sulfur and liquid fish oil to replace hard chemicals that control powdery mildew.
Winemaker Jean-François Pellet plays an active role in management of the vineyards and is a founding member of the Walla Walla Valley's sustainable viticulture program, VINEA. The ultimate goal is to make quality wine and leave the soil healthier for future generations.
PEPPERBRIDGE.COM
JEAN-CHARLES BOISSET - PROPRIETOR, BOISSET COLLECTION - UPCOMING WINE DINNER ON NOVEMBER 3RD IN BEVERLY HILLS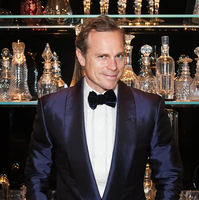 GUIDED WINE DINNER WITH VISIONARY JEAN-CHARLES BOISSET ON NOVEMBER 3RD
DATE AND TIME
Fri, November 3, 2017
7:30 PM – 10:30 PM PDT
Mastro's Steakhouse
246 North Canon Drive
Beverly Hills, CA 90210
Join us for an Unbelievable 7 course Wine Dinner with Proprietor Jean-Charles Boisset of the Boisset Collection.
Come experience fine wines from the Boisset Collection with Jean-Charles Boisset. You will taste 10 of our most sought after wines from the private collection of JCB which is Jean-Charles Boisset collection of rare numbered edition wines that bring the history of Burgundy and its sophistication and explores the uncompromising style of California.
Jean-Charles Boisset was born into the world of wine in the village of Vougeot, Burgundy, France. His lifelong passion for wine began as a child, growing up above the cellars and within view of the centuries-old vineyards of Château du Clos Vougeot, the epicenter and birthplace of Pinot Noir and Chardonnay. Decanter Magazine has included Jean-Charles on its "Power List" of the fifty most important people in the wine world each year of its publication since 2007. The Boisset Collection is one of the Top 10 family-owned fine wine companies in the world and is currently the largest wine producer in Burgundy and the third largest in France.
Experience the very best in fine dining and fine wines in Beverly Hills with Jean-Charles Boisset. Throughout the evening, you will enjoy 10 wines, paired with food prepared by Mastro's Executive Chef. All wines are provided complimentary for you to sip and savour with each course.
One of the exclusive wines we will share with you is The Surrealist by JCB, rated 95+ points by Wine Advocate. $350 bottle
A full menu and wine list will be available to view soon.
Secure your seats at the table today! See you in Beverly Hills!
Contact the organizers for additional information.
PURCHASE TICKETS HERE!
ABOUT BOISSET COLLECTION
Boisset is a family-owned collection of historic and unique wineries bound together by a common cause: authentic, terroir-driven wines in harmony with their history, their future and the land and people essential to their existence. With more than twenty historical and prestigious wineries in the world's preeminent terroirs, including the Côte d'Or, Beaujolais, Rhône Valley, California's Russian River Valley and the Napa Valley, each house retains its unique history, identity, and style, and all are united in the pursuit of fine wines expressive of their terroir. To learn more about the Boisset Collection, please visit www.boissetcollection.com.
WWW.BOISSETCOLLECTION.COM